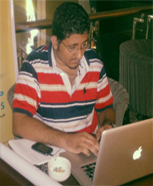 Andrew Azmi
Geek Journalist & Content Marketing Specialist
I'm Andrew Azmi. Geek Journalist, and accidental content marketing specialist.
I also build wordpress websites, back in the day, I founded Freelancing4Arab, Dr-how, and Co-founded 3lmna
I believe I can learn any thing because I have the courage To Say 'I Don't Know'
Andrew Azmi

September 23

(002) 012 777 01953

iAndrewazmi@gmail.com

www.andrewazmi.com/blog
Employment
Co-Founder & Editor in Chief

July 2012 - Present

Back in th day I co-founded 3lmna with my dear friend Bader Alrowaiei, 3lmna is a tech news blog. 3lmna gained a great reputation in MENA and got more than 30k visitors per month in less than one year

Project Manager

December 2011 – March 2012

I Worked in 2R for information system as a Project Manager; we were working on a project called "Murhaba" this project was aiming to improve the education in Egypt, especially for people of the Nubba."

Volunteer Content Manager & Office boy

September 2012 - Present

Volunteering as a content manger at S3Geeks was one of the best decision I have made in my life, S3Geeks allowed me to get in touch with many geeks not only in Upper Egypt but also in Lower Egypt ... Thanks to S3Geeks I met two of my best friends Mohammed Abd ElBaset & Mahmoud Ahmed. I call myself at S3Geeks an office boy because I take any task that I can accomplish without a second thoughts even if it wasn't relate to content creation.

Founder

October 2011 - Present

When I started F4A, I had a vision to spread the word about freelance in the Middle East, I believe that I haven't reached my target yet, but I belive I'll never give up .. my task will be accomplished when I change the concept of freelance in Middle East.

Technical Writer

September 2010 - September 2011

Working in Pctips3000 was a fun journey for me, I wrote English articles about computer tips&tricks which was my best freelance job I ever got because I was getting paid for doing the work that I'm passionate about.
Languages
Programming Skills
Dreamweaver

Php/Sql

Wordpress

Drupal
Design Skills
Graphic Design

Web design
Contact info
2-Khalifa El Gendi st. Omart Azmi youssef, Aswan 81523


Email: iAndrewazmi@gmail.com
Phone: (002) 012 777 01953
Website: www.andrewazmi.com